This is our very first time to go on camping this  year with the family. I brought my trailer with me. My wife will drive her car and can follow me while driving to the camp. The drive took two hours if we do not stop somewhere. Usually we stopped at Mc Donald's and this grocery store called Giant on the way to the camp.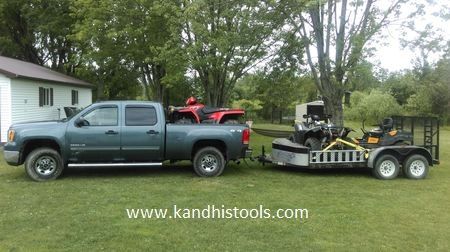 I am hauling big loads with me. On the back of my truck is my old ATV that my son owns it now. On the trailer is my new ATV and lawn mower. My son is with me so is our American Stafford Shire Terrier dog. She is such a Daddy's girl.
Our daughter is driving with my wife so as our Rat Terrier dog. She has most of our staff that we will need while camping. We will be gone for three days and two nights. Our neighbor will takes care of the chickens. He can have the brown eggs.