For some wet basements, the perfect solution entails installing a sump pump. To be effective, however, a sump pump must have the capacity to handle the amount of water to be pumped out. It must also be installed in the correct size sump pit.
As a general rule, properly installed sump pumps are an effective solution for some types of basement water problems. Even so, things do go wrong from time to time. There's no such thing as a "fail-proof" sump pump. Sump pumps are mechanical, and anything mechanical can fail.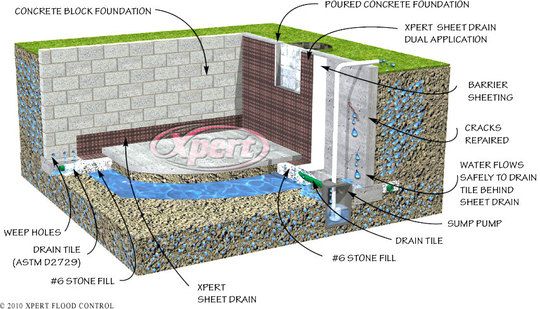 Here's some quick information about a handful of sump pump problems that commonly crop up, courtesy of Xpert Flood Control and Seepage, one of the top flood control Chicago companies.
Sometimes the pump's on/off switch fails or gets stuck. Some sump pumps have mechanical pressure switches, which tend to have a higher failure rate than other types. Many flood control experts prefer sump pumps with vertical on/off switches: tethered float switches tend to get stuck/hung up on the side walls of the pit. When that happens, conditions are ripe for a basement flood.
The sump pump is working just fine, but its output capacity isn't up to the job. Sump pumps come in different sizes, with pumps that vary in horsepower. All things being equal, the more horsepower a sump pump has, the more water it's capable of pumping. Most flood control Chicago contractors recommend installing a sump pump with at least a 1/3 horsepower motor. That size motor should be capable of pumping about 35 gallons per minute. You'll need a unit that has more power (a 1/2 horsepower motor) if your 1/3-horsepower sump pump can't keep up or runs excessively.
The power goes out. Sump pumps are just like anything else that runs on electricity. When the power goes out, they stop working immediately. So what's the fix? Keep your existing sump pump as your primary unit, but have a flood control company install a second unit – one that comes with a battery backup for use during power outages.
Since sump pumps are mechanical, they eventually wear out. You can prevent a mess in your basement by replacing your sump pump regularly, before it stops working altogether. Many waterproofing contractors suggest replacing them every five to seven years.
Water in the discharge pipe freezes up. This isn't uncommon, considering Chicago's harsh winters. Unless the discharge pipe is properly angled, water will collect there. That water could easily freeze and block the pipe during a cold snap. When it does, the "new" water being pumped up through the system will fall back into the sump pit. Eventually the pit will fill up with water. Once the pit's capacity has been reached, the water will flow onto the basement floor and cause a flood. Make sure your flood control company pitches the discharge pipe correctly when your sump pump is being installed.